2016
body drawings: Unframed patchwork compositions of crawling, seated and stretching clothed figures with hand painted and dyed linens.
man and the land: A collection of hand appliqué linen window or wall flags inspired by the relationship between dwelling, sea and land shapes found on Fair Isle, Scotland in the recent two-part BBC documentary.
orbit and the shark jaws: hand appliqué linen flags
More news from neptune: Space remnants play quilt (110cm x 115cm) Hand painted and dyed linens, cottons and wools. Lined with 100% cotton batting. Machine pieced with hand applique planets. Quilted and finished by hand. Backed with grey and red linen.
From the cutting room floor: a pair of Studio panels made with 1960s vintage fabrics and remnants from quilts i was working on at the time.
Made up of hand painted linens, vintage woven wool and bright sea directions of French shirting cotton, this collection of works is inspired by St Ives, the sea and W.S.Graham's poem 'The Nightfishing'.
(i) 'and waves us loose' After looking at John Piper's 1930s collages, this composition is based on a memory of a bay in St Ives with appliqued triangles and vertical lines to describe the sea. 110cm x 140cm
(ii) 'bright hemisphere unprised ancient overhead' Made up of hand painted linens, French shirting cotton sea and acid yellow painted sunshine, this piece is entirely appliqued, quilted and finished by hand. A vivid red linen backs this quilt and along with a stormy painted cloud and sunshine comes round to the front to edge the quilt. hand quilted weather stitches are just beginning to rain on this rock pool scene, the sandcastle shape on the right collapses slowly. 133cm x 142cm
(iii) 'likely a full gale unwinding it' Hand painted linen with a French shirting cotton suggestion of sky. A windy grassy moor... a peaceful little dwelling, a distant watercolour aeroplane flies by. Backed with a dark green dyed linen. 105cm x 140cm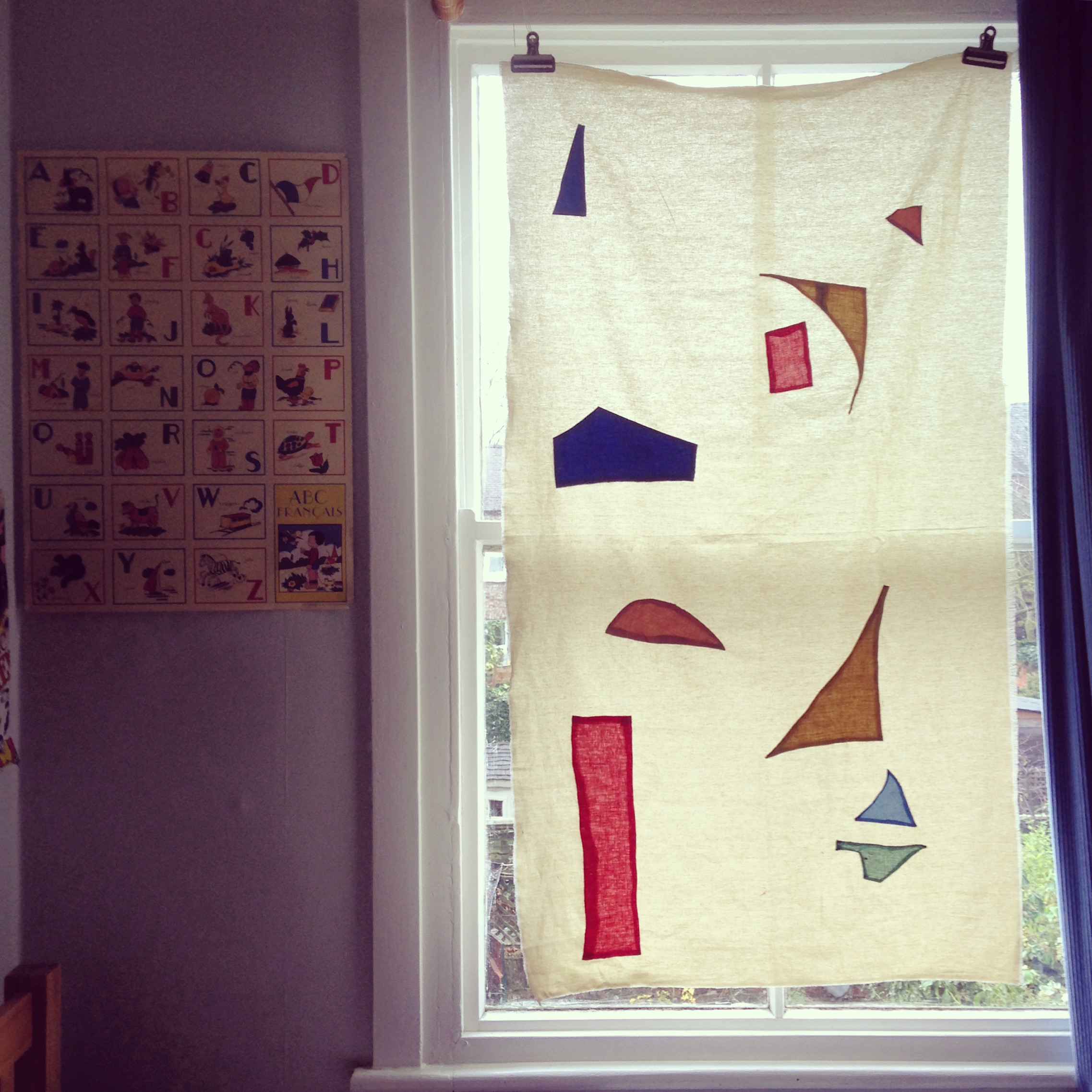 1
2
3
4
5
6
7
8
9
10
11
12
13
14
15
16
17
18
19
20
21
22
23
24